Understanding SPF – Spray Polyurethane Foam Presentation
India Insulation Forum – March 07, 2018
CLick to download powerpoint presentation
---
DESIGNING ACHIEVING ENERGY EFFICIENCY THROUGH INSULATION
India Insulation Forum – March 07, 2018
CLick to download powerpoint presentation
---
ENERGY SAVING CALCULATOR
India Insulation Forum – March 07, 2018
CLick to download powerpoint presentation
---
India Insulation Forum, 15 May – 2014, Ahmedabad.
PRESENTATION ON BUILDING PERFORMANCE LAB
India Insulation Forum, 15 May – 2014, Ahmedabad.
What are polyurethanes? VIDEO LINK
Short interviews
This is an English-language subtitled YouTube-Playlist  of short interviews where you can see how 3rd parties (city mayor, architect, engineer, scholar etc) talk about how Covestro supports sustainable building renovation, and how fantastic PU insulation can be.
Training Manual on application of building insulation – Download pdf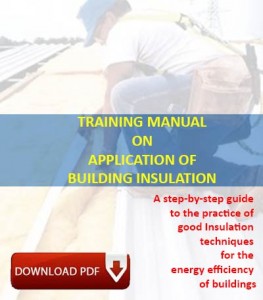 What is Insulation?
A building absorbs heat through the building envelope, i.e., through roofs, external walls, windows and floors. Good insulating materials stem the flow of heat from the warm to the cold side and minimize heat losses.
Good insulation also plays a major role in ensuring comfort and healthy air in your home. The internal surfaces of poorly insulated walls, ceilings and floors heat up dramatically during summers and radiate heat into the rooms.
External elements such as roofs and walls must have airtight internal surfaces so that the air in the room cannot escape through joints or penetrate the element. Effective insulation free from thermal bridges reduces cooling losses through weak spots in a building's structure that allow a particularly large amount of cooling energy to escape.
Appropriate expertise is required when planning a building project due to the huge number of different building materials, the multitude of technical options, the legal regulations relating to thermal protection and tught deadline. Cost-effective, state-of-the-art integrated solutions are needed.
The most important criterion for the effectiveness of an insulating material is its thermal conductivity. The lower the number, the better the material's insulating properties.